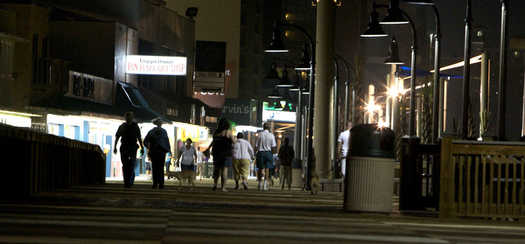 After years of preparation, hard-work and dedication, the Myrtle Beach Boardwalk and Promenade opened to a roaring crowd who were treated with a ribbon cutting ceremony followed by performances by The Embers, followed by additional free performances by Jim Quick & Coastline, Billy Scott & The Party Prophets, Maurice Williams & The Zodiacs, Mark Roberts & The Breeze, The Coasters, The Catalinas and Rock and Roll Hall of Famer, and Ben E. King. Beginning at 2nd Avenue North and ending at 14th Avenue North, the Myrtle Beach Boardwalk and Promenade enhances the overall experience of the Myrtle Beach Grand Strand.
With plenty of condo rentals surrounding the new Boardwalk, the luxury of having a 1.2 mile stretch of Boardwalk is right at your doorstep. The ribbon cutting ceremony is just one of the many events scheduled this summer. Be sure to check out the Myrtle Beach chamber of commerce to find out more about all the great festivals and events throughout the year.
P.S. Just so you are not confused, Boardwalk Resort in Myrtle Beach is located near 23rd Avenue.