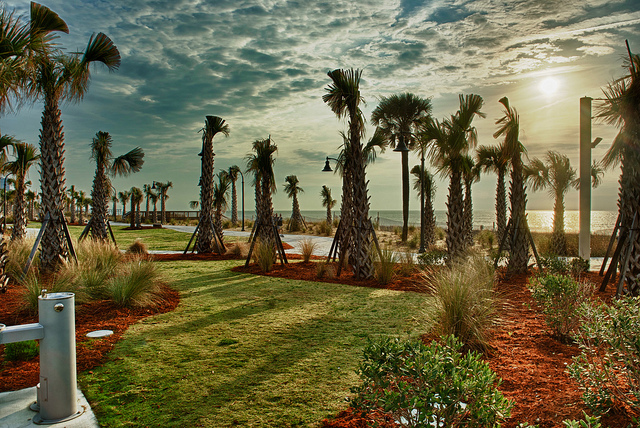 Photo by Flickr user J_Sturg
The Myrtle Beach Boardwalk has recently been ranked #3 in the country by National Geographic on their list of the best boardwalks. This is incredible news for a boardwalk that is only a year old! The Myrtle Beach Boardwalk ranked in after Coney Island and Atlantic City, both of which were established in the late 1800's. Travel and Leisure magazine has ranked the boardwalk as #2, second only to Coney Island.
The Myrtle Beach Boardwalk is a 1.2 mile long extravaganza situated on the Grand Strand that is filled with entertainment, shopping, and the very soul of Myrtle Beach.
At any given time when you are walking along the boardwalk you can encounter stilt-walkers and other street performers. You can shop at one of the many unique shops, dine at a beach side café, or simply play some video games at the arcade. Each week you will find live entertainment somewhere along the boardwalk, and once a week there is a fabulous fireworks display.
The Boardwalk extends between the 2nd Avenue Pier and the 14th Avenue Pier. The boardwalk itself has three distinct features. Between 2nd and 8th Avenues, the boardwalk is the promenade area, complete with benches that you can use to enjoy the ocean view. Between 8th and 14th Avenues, the boardwalk is lined with shops and cafes. At 14th Avenue, the boardwalk eases into a park, complete with landscaped sand dunes and a wooden deck. The boardwalk is near our quite a few of our condos, including Bay View, Oceans One and Atlantica.
Fun Facts About The Myrtle Beach Boardwalk
– Over 770 thousand board feet of lumber was used to create the boardwalk
– Over 300 thousand nails were used to put the boardwalk together
– Nearly 600 thousand screws were used for the project
– Over 50 thousand beach grass seedlings were used in the landscaping
– Over 600 palmetto trees were planted
– It took 9 months to complete construction at a cost of nearly 7 million dollars.