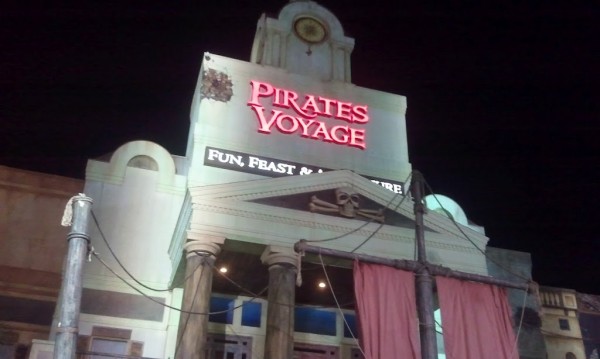 If it is pirates yee seek, you've come to the right place. Ahoy Mateys! Nearly a year ago Dolly Parton's Pirates Voyage opened, following a successful 19 season run of the popular Dixie Stampede.
Well now, the second season of Pirates Voyage is underway this year and last night I had the opportunity to visit the attraction I have heard so much about. My companion and I were treated to a pirate's feast while seated in front of a 15 foot deep lagoon. We watched and cheered on two pirate rivals, Crimson Pirates, and the Sapphire Pirates, as they "battled" it out through various ariel acts, races, and a little bit of swordplay.
Pirates Voyage is an $11 million production that includes a spectacular and talented crew (the pirates).  Plus, being a huge animal lover, I enjoyed seeing various species in the arena doing their thing. My personal favorite was a wonderfully trained sea lion named "Salty". (who came out during the pre-show AND the main show.)  The dog water relay races were entertaining, too and a big hit with the audience. There were even relay races they got participants from the audience! Many daring acrobatic feats were performed over and into the lagoon. We were fortunate enough to be seated in the front row. If you want to be right up close to the action, this is the place to be! (But alas matey, the top row has it's perks too, you get to see the entire arena and everything going on much easier.)  The show lasted approximately an hour and a half.
Prior to the main event, there is a pre-show for those who would like to get a jump start on the debauchery. It's mainly a big singalong (and clap-along) as the pirates perform on stage and in the audience. There is also a juggling act and audience participation on stage as well. A bar is located along one side of the grand feasting hall with both alcoholic (oh yee Rum) and non-alcoholic beverages. Musicians were on stage entertaining and getting the crowd in "pirate mode" and ready for an evening of fun!
Who should go? Anyone looking for an adventurous dining experience! It's suitable for children but there are some loud noises, especially at the end, and scenes that might frighten timid  young ones. All the children I saw seemed to thoroughly enjoy the show, and some were even chosen to participate on the Crimson or Sapphire teams.
TidBits Worth Noting
a) Your photo will be taken upon entering (you may politely decline, if you aren't interested in this souvenir). The photo will be available for purchase later in the evening ($20). There is also a gift shop available both as you enter and as you exit the show. The soup that is part of the dinner is available for sale (a mix) in the gift shop.
b) When purchasing tickets, keep in mind there are 5 rows. The first 4 have bench style seating, while the very top has chairs. Both have advantages and disadvantages of course. It seems like the food is served (oh, chicken, pork, mashed potatoes, a biscuit, and corn on the cob) in the front row first and moves its way up. Something to note.  But they are very quick so don't let THAT influence your decision.
c) This show is more about ariel acrobatics than actual sword-fighting and gunpowder. So don't come expecting to be on the edge of your seat in a heated battle like you would expect at Medieval Times.
d) If you are wondering why there aren't any photos of the main show, it's because photography isn't allowed inside.
I found the staff of Pirates Voyage to be very pleasant and accommodating. We encountered an employee in the gift shop who greeted us at our arrival and spoke in "pirate language" which added to the ambiance.
———————–
Did you know that a year ago, some of Blackbeard's secrets were revealed when his flagship, the Queen Anne's Revenge was found off the coast of North Carolina? You can read more about Queen Anne's Revenge here.