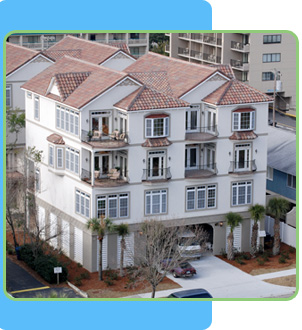 Charleston Court
8BR 8BA units
Accommodates up to 20
Outdoor pool
Jacuzzi tub
Game room
Elevator
Big screen TV
Fully equipped kitchen
Two washers and dryers
Balcony off master bedroom
Dishwasher
Microwave
All of units are Non-Smoking
Description of this Large Condo

Charleston Court ·213 76th Ave North, Myrtle Beach SC 29577
You could vacation with even the largest group at Charleston Court! This huge, eight-bedroom condo is in the quieter northern section of Myrtle Beach, just a short drive from the ocean. The location is perfect for accessing all the fun and amenities of both Myrtle Beach and North Myrtle Beach! And what could be better than staying together with the entire family, business team, or golf outing? Charleston Court accommodates up to twenty people with enough room for everyone—you'll love the two kitchens, two washer/dryers, outdoor pool, Jacuzzi tub, big screen TV, elevator, and game room!
Sophistication and luxury awaits you and your guests in this condo located in the upscale neighborhood of north end of Myrtle Beach. After marveling at the Charleston Court's expansive grounds, take a walk around the area and see for yourself the many shops and eateries around the area. You'll be surprised at how many different choices you have.

Exclusive North End of Myrtle Beach near Sands Beach Resort,
Long Bay Resort, Grande Shores and Caravelle Beach Resort.
Walk to your favorite restaurants! Including TGI Friday's, Pizza Hut,
Liberty Bar and Grill, Bonefish Grill and Starbucks!
Charleston Court Property Map
Photo Gallery
(click photos to enlarge)






Want more photos? Click on the unit name below!
Our Units
Our Nearby Homes & Large Condos