4 Bedroom Condos For Rent in Myrtle Beach
A rental that is big enough for the whole family (and then some).
So lets say you decide to take a full family vacation. Sounds great, eh? Everybody is together at the beach, enjoying their oceanfront condo, salt water smell in the air, nice warm sun beating down on you. Then you start thinking about Uncle Ed, who you heard snores like there is no tommorrow. And you remember your parents like to sleep with their light on for whatever reason. Worried? Well no fear! These large 4 bedroom and up condo rentals are perfect for you! You can sleep in peace in your own bedroom, but still meet everyone in the kitchen to make breakfast in the morning. Let's face it, even on vacation, everyone needs their alone time, right? Check out these large condos below, hopefully they will spark your interest.
Grand Atlantic
2, 3 & 4 Bedrooms
Indoor Pool
Outdoor Pool
2 Kiddie Pools
Lazy River
Fitness Room
Convenience Store
Large Sundeck
Private Balconies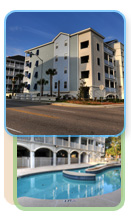 Myrtle Beach Villas
4 Bedrooms
Outdoor pool
Outdoor Jacuzzi
Lazy river
Kiddie pool
Washer/dryer in condo
Jacuzzi tub
Fully equipped kitchen
Microwave
Dishwasher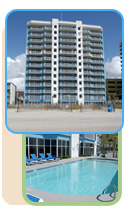 Ocean Blue
4 & 5 Bedrooms
Indoor pool
Outdoor pool
Indoor Jacuzzi
Lazy river
Kiddie pool
Fully equipped kitchen
Washer/dryer in condo
Internet access
Big screen TV
Balcony off master bedroom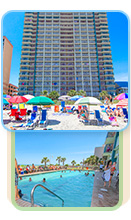 Paradise Resort
2 & 4 Bedrooms
Indoor pool
Outdoor pool
Kiddie pool
Jacuzzi
Lazy River
High-Speed Internet
Pool Bar
Convenience store
Fitness room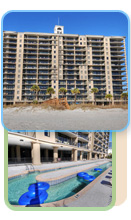 South Wind
3 & 4 Bedrooms
Outdoor Pool
Indoor Pool
Lazy River
Kiddie pool
Exercise facility
Fully equipped kitchen
Washer/dryer in condo
What's Included in My Four Bedroom Condo Rental?
Why, a wonderful Myrtle Beach vacation, of course! Other than that, linens and departure maid service are added into your package to help make things easier for your stay. The linens for the beds include blankets, pillow cases, sheets and comforters. We also provide bathroom towels and washcloths. However, we do not provide hand towels or beach towels though. The departure maid service makes it easier on you, especially during a vacation. You do not have to worry about cleaning your condo before you leave. All we ask is you take out the trash and turn on the dishwasher with all your dirty dishes. Leave the rest for us! All in all, we just want you to enjoy your 4 bedroom Myrtle Beach condo rental.