Ambassador Villas North Myrtle Beach Rentals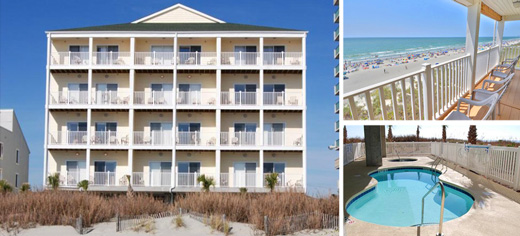 Property Amenities
Beachfront Access
Outdoor Jacuzzi
Outdoor Pool
Internet
Excellent Location
View Photos of Ambassador Villas
(click photos to enlarge)









Have a Question For Us? We're Here to Help.
Please fill out the form below and a member of our Support Team will respond as soon as possible.
Where is Ambassador Villas located at in North Myrtle Beach?
507 South Ocean Boulevard, North Myrtle Beach, SC 29582
About Ambassador Villas Large Condo Rentals
At times, bigger is not only better but an absolute necessity. And for vacations that require extra-large accommodations for extra large groups, there's no place better than the 7-bedroom Ambassador Villas. Everything about these fantastic oceanfront condos is oversized for groups of up to 19, with spacious layouts, large screen TVs, side-by-side refrigerators and other accommodations for the maximum enjoyment of larger crowds. Large full kitchens offer top quality appliances and plenty of cabinet and counter space for preparing meals for the masses. Wide balconies offer sweeping views of the beach. Lovers of Beach Music and Shag dancing can walk to Ducks, Spanish Galleon and Fat Harold's, classic beach clubs where the music and dance were born. Also within walking distance is OD Pavilion Amusement Park, home to classic coasters and other rides, arcade games and go-kart racing. Golfers will love the resort's proximity to a number of top golf courses, including the Fazio, Norman, Dye and Love courses at Barefoot Resort as well as Eagle Nest, Heather Glen and other courses around Little River just a few miles to the north.
Ambassador Villas Vacation Rentals