Arcadian II Vacation Rentals
Arcadian II Myrtle Beach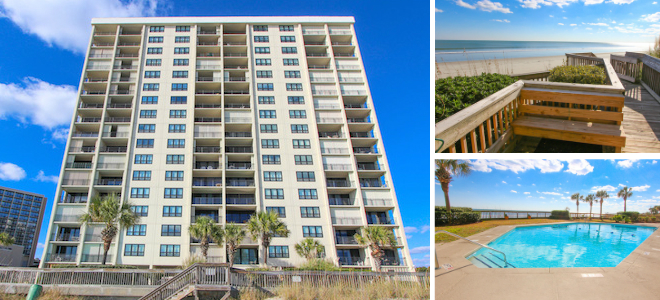 Arcadian II Myrtle Beach Overview
The vacation rentals at Arcadian II in Myrtle Beach, South Carolina are an excellent choice for accommodations during your next vacation to the Grand Strand. Located in the Northern section of Myrtle Beach, which is prized for its quiet, relaxing and predominantly residential setting. For those of you who are looking for the happy medium between high and low crowd sizes, the Arcadian II is just right.
The resort itself is located directly on the beachfront, offering guests access to an oceanfront pool as well as outdoor tennis courts. Due to its prime location, you're conveniently situated between North Myrtle Beach and Downtown Myrtle Beach. Also, Arcadian II is just a short 10 to 15 minute drive in each direction on Ocean Blvd or Highway 17 and you can take advantage of the many attractions and restaurants these areas have to offer.
Photos of this Hotel in Myrtle Beach, South Carolina
(click photos to enlarge)







Browse Our Condos for Rent in Arcadian II
Our luxury rentals are an excellent alternative to traditional hotels. We currently represent a privately owned 3 bedroom, 2 bathroom oceanfront condominium that is immaculately maintained as well as offers breathtaking coastline views of the Atlantic Ocean.
Where is Arcadian II Tower Located?
10100 Beach Club Dr Myrtle Beach, SC, 29572

This hotel is located in the extremely popular Northern section of Myrtle Beach. Area attractions, shopping and places to eat are within a reasonable driving distance.
Other Names for This Myrtle Beach Resort
The Arcadian Resort
Arcadian II Myrtle Beach
Arcadian II Vacation Rentals
Arcadian II Condos
Arcadian II Reviews