Bay Watch Resort North Myrtle Beach Rentals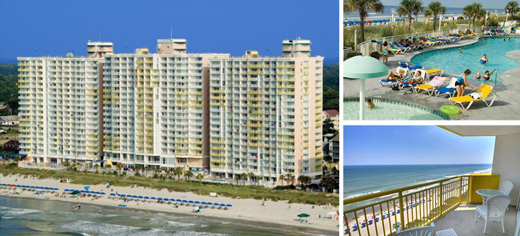 Property Amenities
3 Outdoor Pools
2 Indoor Pools
2 Kiddie Pools
3 Jacuzzis
2 Lazy Rivers
Fitness Facility
2 On-site Restaurants
Internet


View Photos of Bay Watch Resort
(click photos to enlarge)







Have a Question For Us? We're Here to Help.
Please fill out the form below and a member of our Support Team will respond as soon as possible.
Where is Bay Watch Resort located at in North Myrtle Beach?
2701 South Ocean Blvd, North Myrtle Beach, SC 29582
About Bay Watch Resort Condo Rentals
The spacious, upscale condos of Bay Watch Resort and Conference Center are ideal for family vacations, business meetings, golf outings or whatever else might bring you to North Myrtle Beach. Studios as well as 1, 2 and 3-bedroom condo rentals are available with all except the studios offering full kitchens. Many of the larger units in Bay Watch Resort also have an in-unit washer and dryer. Other features include private balconies and free high-speed Internet. Property amenities include three outdoor pools, two indoor pools, indoor and outdoor lazy rivers and children's pools, a fitness center, game room and more. You can get a great meal without leaving the resort at The Blue Room Cafe or Fishtails Beach Bar. You can walk to the 18-hole course at Azalea Sands Golf Club, with the adjacent Beachwood and Possum Trot Courses less than two miles away. Barefoot Resort's four courses are just a short drive away as are the popular courses around Little River. Also less than 10 miles away in Little River, SC are Big M Casino boats ready to set sail for offshore Vegas style gambling.
Bay Watch Resort Vacation Rentals