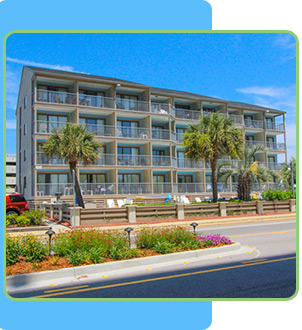 BlueWater Villas Rentals in Myrtle Beach, SC
Ocean view location
Outdoor pool
Outdoor lazy river
Outdoor Jacuzzi
Indoor Jacuzzi
Short walk to the beach
Affordable rental rates
Motorcycles allowed
Non-Smoking
Resort Description for Bluewater Villas

Address: 1906 S. Ocean Blvd, Myrtle Beach, SC 29577

Bluewater Villas is a 4 story, ocean view condominium complex located in the South end of Myrtle Beach, South Carolina. If you're looking for an affordable vacation rental option for your next family vacation.
The complex itself is loaded with conveinant water amenities such as an outdoor lazy river that any kid would love and an outdoor pool and jacuzzi for the entire family. What's really great about Bluewater Villas is that you'll be just a few steps away from the ocean and centrally located to many of the activities that the Myrtle Beach area has to offer.
Helpful note: This is a biker-friendly property and motorcycle parking for guests is allowed.
Map showing location of this property
Bluewater is located just a short distance away from major attractions and restaurants such as 2nd Avenue Pier, Family Kingdom Amusement Park, SkyWheel and much more!
View Photos of Bluewater Villas
Check out our high-definition photos. Feel free to click on a picture to enlarge it for a more detailed view.





View pricing & availability for our condo rentals
Upon arrival, our guests will receive 2 parking passes as well as 6 pool bands for amenities access on the property.
Other resorts nearby that you may be interested in: