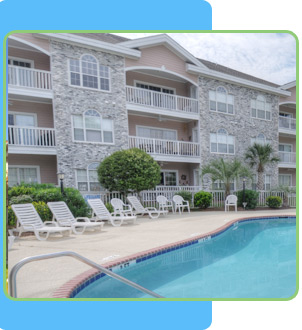 Magnolia Place at Myrtlewood
2 Bedroom Condo Units
Accommodates up to 6!
Outdoor Pool
Motocycles Allowed
Golf Course View
Full Kitchen
BBQ Grills
Description of this Condo Rental
Magnolia Place · 4701 Wild Iris Dr. - Myrtle Beach SC 29577

Located in the quiet section of Magnolia Place, these condos are located directly on the Myrtlewood Golf Course. These centrally located condos are perfect for families, a couples retreat, or a bunch of golfers. Magnolia Place includes multiple outdoor pools, an outdoor Jacuzzi and a view of the neighboring golf course. A private balcony located off the master bedroom is a perfect way to begin your mornings.
Magnolia Place offers reasonable rates and tasteful accommodations as well as fully furnished, fully equipped rooms and kitchens.
Photo Gallery of this property
(click photos to enlarge)

Browse Our Vacation Rentals