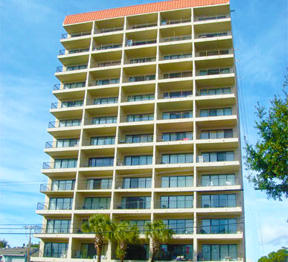 Ocean Villas Beach and Racquet Club
Ocean View 1 & 2 Bedroom Condos
Accommodates up to 6 people!
Outdoor Pool
Health Bar
Sauna
Steam Room
All Non-Smoking Units
Description of this Myrtle Beach condo rental
7509 North Ocean Boulevard, Myrtle Beach, SC 29577
The Ocean Villas Beach and Racquet Club is one of the top choices for an affordable stay in Myrtle Beach. It is conveniently located close to the beach, is quiet and comfortable, with lovely ocean views. Offering an enclosed outdoor pool and smaller splash pool/Jacuzzi, along with gas grills for guests to make use of, you can enjoy lazy summer days poolside. You could also visit the plethora of restaurants and shops just a block or two away. Guests will also receive membership to the nearby Ocean Dunes Health Club, where there is also an outdoor pool, an indoor pool, a sauna, and a steam room providing the perfect place to unwind after a long day shopping or golfing.You will find a large fitness room and health bar at Dunes as well, which contains all the best equipment that you need to get a great workout done, and of course for fitness enthusiasts you have a choice of 86 championship golf courses to choose from all within close proximity to Ocean Villas Beach and Racquet Club.
Browse Vacation Rentals at Ocean Villas Beach Resort
Map of this Resort in Myrtle Beach, SC
Photos of Ocean Villas Beach Resort
(click photos to enlarge)













Browse our Accommodations:
Resorts that are Near Ocean Villas