Pinnacle North Myrtle Beach Rentals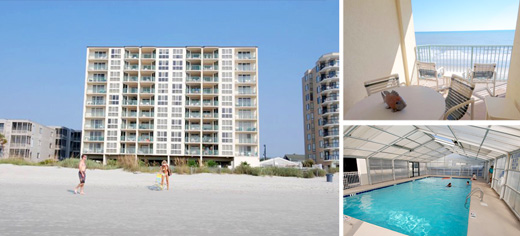 Property Amenities
Beachfront Access
Indoor Glass-Enclosed Pool
Outdoor Jacuzzi
Elevator in Building
Covered Parking
View Photos of Pinnacle
(click photos to enlarge)






Have a Question For Us? We're Here to Help.
Please fill out the form below and a member of our Support Team will respond as soon as possible.
Where is Pinnacle located at in North Myrtle Beach?
2507 South Ocean Blvd, North Myrtle Beach, SC 29582
About Pinnacle Resort Condo Rentals
Just steps from the beach, a half mile from a Rees Jones designed golf course and two miles from Barefoot Landing, the 2 and 3-bedroom condos of the Pinnacle Resort are great for however you want to spend your vacation time. And with a variety of good restaurants within a few minutes walk or drive, what more could you want? Comfortably furnished and tastefully decorated condo rentals offer full and well equipped kitchens, master baths with Jacuzzi tubs and in-unit washers and dryers. Amenities at the Pinnacle Resort in North Myrtle Beach, SC include an oceanfront pool covered in glass. Guests can walk to the Azalea Sands Golf Club and right next door to it are the Beachwood and Possum Trop courses. Barefoot Resort's courses are just a few minutes away as well. Barefoot Landing offers well over 100 shops, restaurants and attractions like Alabama Theatre and Alligator Adventure. Tanger Outlet Centers and the Myrtle Beach Ball are each just about 10 minutes away. In addition to the restaurants at Barefoot Landing, many others are close by, including Blue Room Cafe and Molly Darcy's Irish Pub just a short walk down the beach.
Pinnacle Vacation Rentals