Spinnaker Resort North Myrtle Beach Rentals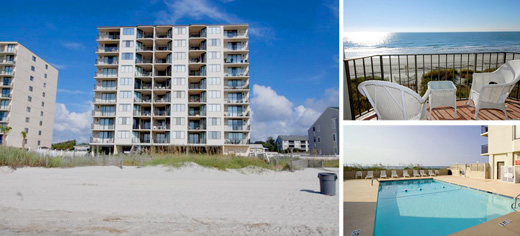 Property Amenities
Outdoor Pool
Jacuzzi
Internet
Direct Beach Access
Breath-taking ocean views
View Photos of Spinnaker Resort
(click photos to enlarge)









Have a Question For Us? We're Here to Help.
Please fill out the form below and a member of our Support Team will respond as soon as possible.
Where is Spinnaker Resort located at in North Myrtle Beach?
3513 South Ocean Blvd, North Myrtle Beach, SC 29582
Overview Description of Spinnaker Resort
Offering a great blend of amenities, location and affordability, the Spinnaker Resort in North Myrtle Beach is a top choice among returning vacationers, with comfortable 2 and 3-bedroom condos for rent along one of the finest stretches of beach on earth.
From the spectacular ocean views from their private balconies to jacuzzis in the master baths, Spinnaker Resort condos for rent add the special touches that make vacations extra special and extra relaxing, too. Other amenities and features include wireless Internet, full kitchens, an oceanfront pool, and more.
Nestled in the quiet and upscale Windy Hill Beach section of North Myrtle Beach, renting a condo in Spinnaker means a quieter and more private vacation that those found in more crowded and commercialized Myrtle Beach. But with its prime location, there's convenient access to all the great Myrtle Beach attractions and others that have made the Grand Strand one of the world's favorite vacation destinations.
Spinnaker Resort Vacation Rentals