The Villas at International Vacation Rentals
The Villas at International Murrells Inlet Rentals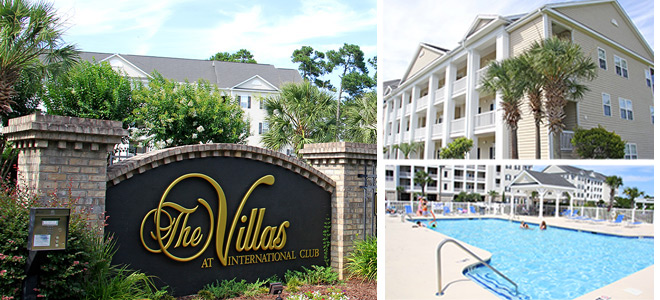 Overview Description of The Villas at International
This newly renovated condo is found at the beautiful grounds of the Villas at International Club, The International Golf Club offers an exhilarating round of golf course appealing to play and admire. The Club merges the beauty of nature with the craftsmanship of 18 holes, making it no wonder it was awarded four stars by Golf Digest's prestigious 'Places to Play'. The Villas at The International Club is a gated community with a golf view and private pool. This unit is on the third floor with vaulted ceilings throughout. With 2 bedrooms, 2 bathrooms, living room, dining room, a fully equipped kitchen & laundry room. Just 10 minutes from Garden City Beach, 15 minutes to MB Airport and Myrtle Beach, and 5 minutes to the Marshwalk in Murrells Inlet with numerous restaurants and live music. There is something in town for every member of the family. For those who love to shop, there are a number of Outlets and hundreds of souvenirs stores. If you are looking for a relaxing as well as fun-filled trip this is for you.
Property Amenities
Outdoor Pool
Golf Course View
Full equipped kitchen
View Photos of The Villas at International
(click photos to enlarge)








Looking for Pricing and Availability?
Where is The Villas at International located at in Murrells Inlet?
907 Knoll Shores Court, Murrells Inlet, SC 29576