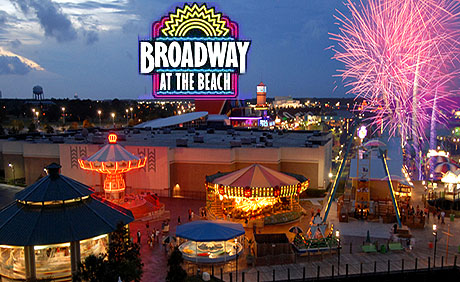 Searching for a good time but you don't want to stray too far from your condo? You'll be surprised to see the transformation Broadway at the Beach makes as the sun falls. With clubs, bars, and everything in between, Broadway at the Beach has something for everyone.
Most of our luxury vacation home rentals are located near Broadway at the Beach, which is on 21st Ave North, between the Bypass and Business Hwy 17. The shopping and dining complex brags of being 350 acres wide and is surrounded by water. It's actually two long sections side by side, with the water in the middle, and bridges going from one side to the other. At any given time there are about 19 restaurants – from year to year a few come and go. Add to that over 100 unusual boutique type shops, some of the rides from our sorely missed Pavilion, a pontoon boat that will take you from one end to the other and back, and several odd water rides for the kids. There's more, too, and something to entertain everyone.
Broadway contains several of the best restaurants in Myrtle Beach, including Tony Roma's Ribs, Landry's Seafood, Liberty Steakhouse, Senor' Frogs, and Margaritaville. As many restaurants as there are, you may still have to wait during prime time, so be prepared to take a buzzer and shop nearby until you're called. You'll also find the semi-famous Hard Rock Cafe in Broadway at the Beach, with its amazing pyramid design and rock & roll memorabilia inside.
[Update: Since the article was first published, the Hard Rock Cafe has since been torn down. R.I.P]
You'll find some quite unique stores. There's a store just for cats and cat memorabilia. There's a baseball hat store. You'll find kiosks dotted around selling things like keychains and "your name on a grain of rice".
There's a celebrity autograph store, candy stores, and an African store. There's a wolf store, a race car store, even a store dedicated to Blue Collar Comedy – Jeff Foxworthy, Larry the Cable Guy, and Ron White. There are a multitude of dress shops, selling all kinds of beachwear. There's even a Victoria's Secret.
The end closest to Business 17 has the Pavilion rides, Margaritaville, the Imax Theatre, and a regular movie theatre. These are great attractions for kids. The grand Myrtle Beach Aquarium is there too, and is one thing nobody should miss!
Many nights will find great fireworks show on the water, beginning around 9:45 with plenty of room to get the best view. You'll also find some unusual simulator rides and "Bungie-type" rides scattered around.
So you see why Broadway at the Beach attracts everyone? Even if all you want to do is have a good meal and people-watch, you can't find a better place to do it.