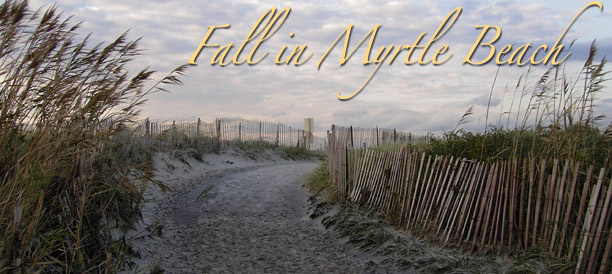 Everyone knows that Myrtle Beach, South Carolina is one of the Nation's best beach vacation destinations for the Summer, and was even voted as such by TripAdvisor in 2011 and 2012. While summertime visits to the Grand Strand may be a no-brainer for many, very few know that it is also a increasingly popular destination for Fall. Well folks, we're here to expose some of the not-so-hidden benefits of visiting Myrtle Beach during the Fall; including gorgeous weather, cheap rental rates for condos & beach homes as well as plenty of events and things to do.
Fall Weather at the Beach
September 21st officially marks the end of summer and the beginning of the fall season. The weather in Myrtle Beach during the end of September, and the entirety of October and November is absolutely phenomenal. Why, you ask? Well, let's dive right in and cover some of the upsides of fall weather in M.B.:
The

humidity

during this time of the year is almost non-existent.
Still warm and suitable for beach activities. Swimming, biking, kayaking, fishing and everything in between!
Average temperature during October and November in Myrtle Beach is 73 degrees.
The average temperature of the ocean during that same time is 66 degrees. Totally still swimmable!
Fall Rental Rates in Myrtle Beach, SC
The price of vacation rentals in Myrtle Beach drop significantly during October and November. As the summer crowds dwindle down, it leads to a higher vacancy rate and super affordable rentals. The rental rate that you'd normally pay for a week in the peak-season, could quite possibly get you that same oceanfront condo or beach home for an entire month!
Still looking for solid proof? Check out this example of the difference in pricing from peak-season to off-season rental rates for one of our most popular accommodations; Oceans One Beach Resort.
The weekly base rate for a 2 bedroom, 2 bathroom oceanfront condo during September 29th to October 26th is $799.
A weekly rental for that very same vacation rental during July 7th to August 3rd has a base rate of $1,999 – an astonishing difference of

$1,200

!
Same exact condo. Same exact location. Similar weather. Very different prices.
Fall Events & Things to Do
Less visitors means less waiting time for restaurants and less time you'll spend in traffic. What does that mean for you? More time actually spent doing the things you want to do during your trip to the beach! Myrtle Beach has a plethora of things to do and restaurants to experience, even during the fall season. Some prime examples are:
Attend OktoberFest 2012 – held at Valor Park in Market Commons.
Enjoy a round of golf at one of the 90+ golf courses along the Grand Strand.
See country music legend Randy Travis in concert at Alabama Theater on October 27th.
Head over to Surfside Beach for the 2012 Surfside Beach Turkey Trot 10K or 5K run.
Plenty more!