Have your "fur child" with you on your trip to Myrtle Beach? Aside from Pet Smart and Petco, there are some other places in the area that allow – and welcome – your pet! Check with individual business/location on their specific pet policy if not indicated. Use caution and only bring your pet out in moderate weather. Always make sure they have enough available clean water and of course never leave your pet in a car unattended.
PET FRIENDLY STORES
Bass Pro Shops, Myrtle Beach Mall, Myrtle Beach, 843-361-4800. Well-mannered dogs are welcome in the store; they must be leashed and under their owner's control at all times.
Camping World, 3632 Highway 501, Myrtle Beach. 843-236-3511 and 2295 Dick Pond Road (Highway 544) Myrtle Beach 843-215-1565

Anthropologie, 3340 Reed Street, #A5-200, Myrtle Beach. 843-232-0719. Leashed, well behaved dogs are allowed in the store. Verify policy with store.

Orvis Company Store, 150 Farrow Parkway, Myrtle Beach. 843-839-6900. Well-mannered dogs are welcome in the store; they must be leashed and under their owner's control at all times.

Barefoot Landing, 4898 Highway 17 South North Myrtle Beach. 800-272-2320. Pets are most welcome on a leash. Several restaurants encourage patrons to dine with their pets in outside seating areas including Johnny Rockets, TBonz, Dick's Last Resort, Wild Wing Cafe and Bully's Pub.
DOG PARKS AND BEACHES IN MYRTLE BEACH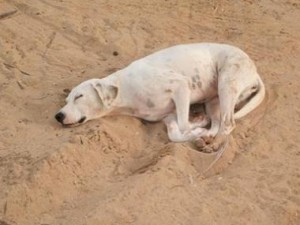 McLean Park, 350 2nd Ave S, North Myrtle Beach Pets are most welcome on a leash.

Barc Parc, 11 acre, city-owned dog park at Mallard Lake Drive – Kings Highway at Mallard Lake . City of Myrtle Beach City of Myrtle Beach 843-918-2390. Open sunrise to sunset. Small dog and large dog designated areas.

Myrtle Beach State Park, 3301 South Kings Highway, Myrtle Beach. Cost – $5.00 per adult. Pets are allowed in most other outdoor areas year round, provided they are kept under physical restraint or on a leash not longer than six feet -but not on the beach from 9 a.m. – 5 p.m. from May 15th through September 15th.

North End Dog Park, (at Grand Strand YMCA) 5000 Claire Chapin Epps Drive, (Bypass from 62nd Avenue North) Myrtle Beach 843-918-2390. Your pet can exercise off-leash at this fenced dog park with a separate area for small dogs, drinking fountains and shade.

Myrtle Beach Public Beach, leashed dogs are allowed on the beach year round (but not from 10 a.m. – 5 p.m. from May 1st until after Labor Day). "From the day after Labor Day to April 30 each year, dogs are allowed on the beach at any time of day. At all times when dogs are allowed on the beach, they must be on a leash that's seven feet or shorter, and you must pick up and properly dispose of the droppings. " – City of Myrtle Beach
However, pets are not allowed on the beaches or Ocean Boulevard between 21st Avenue North to 13th Avenue South of Myrtle Beach at any time.

North Myrtle Beach, dogs in public must be on a leash at all times. No dogs are allowed on the beach from 9 a.m.-5 p.m. May 15-Sept. 15.
Beach Etiquette for Dogs
– Always keep your dog leashed when there is a leash law
– Always clean up after your dog by using a poop bag or pooper scooper
– Do not let your dog visit with other beach-goers or dogs, unless welcomed
– If using an official off-leash area, your dog needs to be well-behaved and must listen to your verbal commands.
DOGGIE EATERIES/RESTAURANTS THAT ALLOW DOGS IN MYRTLE BEACH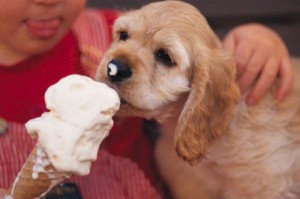 Muddy Puppys, 4723 Southgate Pkwy, Myrtle Beach.  An all natural pet bakery. Pick up some gourmet truffles for a special treat!!

The Baker's Dog, Barefoot Landing, 4898 Highway 17 South, North Myrtle Beach, 843-272-0364. Get your dog's picture on treat bag label – no minimum purchase. http://bakersdog.com/

Bruster's Real Ice Cream, 3784 Renee Drive, Myrtle Beach, 843-236-4232 Free sundae with crumbled dog bone topping for your dog!  People served too. 🙂 Bone topping optional. http://www.brusters.com/
Oceanfront Bar & Grill, 100 9th Ave. N., Myrtle Beach, 843-448-5142 http://www.oceanfrontgrill.com
Toffino's Italian Bakery and Deli (near the Barc Parc) (outdoor seating), 880 Farrow Parkway, Myrtle Beach, 843-477-1598. http://www.toffinos.com/

Liberty Steakhouse and Brewery (Broadway at the Beach) 843-626-4677.  http://www.libertysteakhouseandbrewery.com/,

Sonic Drive-In Share a burger with your pet from the comfort of your own car!  http://www.sonicdrivein.com

Molly Darcy's, 1701 S Ocean Blvd, North Myrtle Beach, 843-272-5555. Pets welcome at outdoor tables. http://mollydarcys.com/

Damon's Grill North, 801 U.S. 17, North Myrtle Beach, 843-272-5107. Staff goes all out to make dogs feel welcome in the fenced, gated and covered outdoor patio. They can provide plastic water bowls and will offer meat stick treats.

Captain Poo's Bar and Grill, 2200 Little River Neck Road, North Myrtle Beach, 843-249-7881

Tip: If you know of a restaurant that has outdoor seating, ask if they allow pets.
Due to health code requirements, any non-service dogs are not allowed inside of restaurants. The dog-friendly eateries listed in this blog, provide outdoor patio dining.
SC Health Code, pertaining to companion dogs:
The South Carolina Department of Health and Environmental Control says in SC DHEC Regulation 61-25 that Live animals, including birds and turtles, shall be excluded from areas where food is stored, prepared, displayed, or served, provided that a location may be approved where, in the opinion of the health authority, no contamination risk exists. This exclusion does not apply to edible fish, crustacea, shellfish, or to fish in aquariums. Patrol dogs accompanying security or police officers, or support animals accompanying persons with a disability, shall be permitted in dining areas.
Pet dogs are not banned from restaurants though: "However, the regulation does allow us the ability to grant a variance in locations where, in our opinion, based on current sound public health policies, no risk of contamination exist. When we allow dining outside, in sidewalk settings, we are already exposing the food served to outdoor contaminants. It is impossible to prevent small rodents or birds from passing through these areas, so by nature, they are exposed to animals. The other main concern for prohibiting pets from these areas then becomes the exposure of servers and tableware to pets and the possible exposure of diners with pet allergies to pet dander. Therefore to allow pets in outdoor dining areas, we must also address these concerns. Here are the items we would need the operator to address and to agree to prior to granting a variance under Chapter VII. I. 5.
Food and drinks must be served on single service, disposable tableware.
The food must be either self-service via a pick up window or other customer pick up method.
If served by wait staff, there must be a conveniently located hand wash sink for maintaining hand hygiene after exposure to pets while serving tables.
The area must be designated as pet-friendly so patrons with allergies can avoid exposure.
"By maintaining these standards statewide when granting variances for pet friendly dining, we can maintain a uniform and consistent approach to this trend and avoid the criticism to DHEC for uneven enforcement of Regulation 61-25."
Doggy Dining Etiquette – Helpful Tips for You and Your Dog at Outdoor Restaurants
1. Make sure your pooch is well-behaved around other people – especially children.
2. Leash your four-legged friend and keep him/her from socializing with other diners or employees, unless welcomed.
3. Tie your dog to your chair and not a table. A dog tied to a table can spill drinks or food if he/she is strong enough to move the table.
4. Try to keep your dog close to your table or chair so he or she is not in the waiter's path. Dogs are not allowed on the chairs or tables.
5. Bring your own doggie bowl or ask the waiter for a paper or plastic bowl or cup for water if necessary. Pets are not permitted to eat or drink out of restaurant glasses or dishes, unless they are disposable. (see above DHEC regulations)
DOG-FRIENDLY EVENTS
Beachbound Hounds September 27-30 Greyhound event. For details, please see information on website at: greyhoundcrossroads.com/index.php?page=beach-bound-hounds
8th annual "Paws Across the Water Duck Derby", benefiting the North Myrtle Beach Humane Society, October 6, 11:00-4:00 PM at on the Waterway Road at Barefoot Landing. Thousands of rubber ducks will be launched on the Intra-coastal Waterway to race to a finish making someone a big winner! Ducks can be adopted on the website www.humanesocietynmb.org, at most Barefoot Landing businesses and various other locations throughout the area starting in August. Race time to be determined. The day of the event there will be kids games and activities, food and beverage vendors, activities for the adults and various retail and craft vendors. Come on out and the join the fun for a great cause and a chance to win lots of wonderful prizes! All proceeds go to help the homeless animals of North Myrtle Beach and surrounding areas at the Humane Society of North Myrtle Beach.
PET-FRIENDLY HOTELS
K9 Cabana, 3949 Dick Pond Road (Highway 544), Myrtle Beach, 843-748-0351 6,800 square foot true canine resort! Choose cage-free or private cabana. Grooming services also available. http://www.k9cabana.com/

Dog Boarding of Myrtle Beach, 8500 Dick Pond Road (Highway 544), Myrtle Beach, 843-492-7438. Cage-less boarding – dogs are able to run free in the facility. They have run of the facility and are able to sleep on couches or dog cots or in a kennel if prearranged. There is also free access to a completely fenced in outdoor area. Dogs are not left alone – there is someone with the dogs, day and night. http://www.happypetscarolina.com/

Sit and Stay Awhile, 3054 Forestbrook Road, Myrtle Beach, 843-742-5427. Grooming and daycare also available.
sitandstayawhile.com
Lastly, I had to mention this newly opened dog-themed PEOPLE restaurant, Gracie's at the Point, named for the owner's dog, Gracie. Gracie's is located at 9400 Shore Drive, near Lake Arrowhead Road and Apache Pier, Myrtle Beach. Open seven days a week. 843-692-5354 http://graciesatthepoint.com
If you know of other places that accept pets, please add them. If you have visited any of the places listed, please let us know!