Myrtle Beach is one of the most family-friendly vacation areas in the country. There are many places and activities for kids while on vacation at the beach. Let us take a look at some of them today.
1. Bass Pro Shops "Family Summer Camp"
Myrtle Beach Mall, Myrtle Beach. 843-361-4800.
Price: FREE
Time Factor:  Crafts 20-30 minutes. Workshops 20 minutes.
Every Tuesday, Thursday, Saturday and Sunday through July 15. Hours: Tuesday and Thursday 2-4 pm and Saturdays and Sundays 1-4 pm. Free crafts are available every week.  Also available are workshops for kids on various outdoor recreation topics starting at 1pm, with the last one at 5 pm.
2. One family favorite is miniature golf.
There are over 50 courses in the area to choose from, including the indoor Lunar Golf at Myrtle Beach Mall, Myrtle Beach. 843-272-8400.
Price: $8.00 per player, 5 yrs and younger $6.00.

Play up to 3 games for the price of 1. Hours: Monday – Friday 3pm-9pm
Saturday 10am-9pm, Sunday 12pm-6pm. *Watch for early openings when school is out.
Time Factor: Based on number of players and number of rounds.
Glow in the dark miniature golf – beat the heat in this indoor course!
While you are at the Mall, take the kids for a ride on "Cubby Caboose" – a train that winds around the inside of the Mall. Tickets can be purchased in the middle of the Mall, across from the movie theater entrance. Tickets are $3.00 each
3. LEGO Summer Brickation visiting exhibit.
Broadway at the Beach (near the Boardwalk Winery and Margaritaville), Myrtle Beach, SC. 800-386-4662.
Price:  FREE.
Through July 17. Hours: Open to the public daily.
Time Factor: One to two hours.
Exhibit includes areas where people can build with Lego blocks or pose with Lego models and also includes a mosaic of Myrtle Beach.
4. Movies at Chapin Memorial Library.
400 14th Avenue North, Myrtle Beach. 843-918-1275.
Price: FREE

Time Factor: One to two hours.
The movies begin at 2:30 p.m and are family-friendly. Popcorn provided (drinks are not available but can be brought in).
5. Children's Museum of South Carolina.
2501 North Kings Highway, Myrtle Beach. 843-946-9469.
Price: $8.00 per person, children 1 and younger FREE. Discount Coupon
Time Factor: One and a half to two hours. Hours: Mon – Sat: 9:00 am -4:00 pm
Museum re-opened on May 22, completing an extensive renovation with many new exhibits and activities. Age-based programs available.
6. Ripley's Aquarium.
1110 Celebrity Circle -Broadway at the Beach, Myrtle Beach. 843- 916-0888.
Online pricing – $19.99 for adults, children 6-11 $9.99, children 2-5 $3.99. Combo pricing also available in conjunction with other Ripley's attractions.
Time Factor: Two hours should allow enough time to see everything. Maybe longer in the height of tourist season, especially mid-day (12-4).
See sharks, stingrays, electric eels and much more. Even swim with stingrays and sharks – for the more adventurous adults!
7. Myrtle Beach Speedway – Wheels of Destruction Thrill Show
455 Hospitality Ln, (near Rt. 501) Myrtle Beach. 877-RACE-LAP.
Price: Admission is $15 for adults and $6 for children ages 13 and under. Through August 29. Gates open at 5 p.m. each Wednesday and the show starts at 7:15 p.m.. June 27, July 4, July 11, July 18, July 25, August 1, August 8, August 15, August 22, August 29.
Time Factor: Show lasts about two and a half hours.
Thrill show full of flames, wrecks, and racing! Breathtaking stunts, bus racing and fireworks at the end! Concessions available.
8. Wonderworks
1313 Celebrity Circle, Myrtle Beach. (843) 626-9962.
Price: $10-$30. Combination packages with Pirates Voyage and Ripley's Aquarium also available.

Time Factor: Unspecified. Based on individual.
An indoor interactive amusement park for the mind. Fun for All Ages! "100 hands-on exhibits. Be blown away by 74mph hurricane winds, maneuver the
controls of a NASA spacecraft to land the shuttle, lay on a bed of nails, pilot a fighter jet, design and ride your own virtual roller coaster, climb 3 stories of
ropes on the indoor ropes challenge course, compete in a game of laser-tag and much more."
9. Myrtle Waves Water Park
3000 10th Avenue North, Myrtle Beach. 843- 918-8725.
Cost: Online pricing – $19.99 for kids (must be 42″ tall or higher), adult $25.99, senior $22.99 (over 55) – daily rates. Children 2 and under – FREE.

Enter park after 3pm, discount pricing available. Parking is $2, VIP limited space parking $5.
Time Factor: Open 10-7pm through August 19. Park closes on September 9th.
30 ride water park. Billed as largest water park in South Carolina.
10. Pirates Voyage
8901 North Kings Highway (at Bypass), Myrtle Beach. 800-433-4401
Price: Crew Seating – Adult $48.28, Child $24.30; Preferred seating – Adult $53.73, Child $29.75. Adults are twelve and up. Child is 4 – 11. Under three FREE – if sitting on parent's lap and sharing their plate.
Time Factor: One and a half hours. There is a pre-show available prior to show, along with a gift shop to peruse.
Interactive pirate-based dinner show with acrobatic competition, live animals and a brand new original music score by Dolly Parton, while seated in front of a 15 foot pool. (Check out our full Pirate's Voyage review).
Special kids focus:  In the pre-show area (Pirates Village), kids can be made part of the Pirates Crew which includes face painting, a hat, flag,
sword, earring and eye patch if desired.  The cost is $19.99 plus tax.  Kids can also can get a tattoo for $5.00 plus tax and make a piece of sand art -starfish, seashell, etc.   Another activity is digging for sand treasures.  Children can fill a bag with jewels for $6.99 plus tax or fill a chest with them.
Some children can be  included on stage to actually "talk" pirate and "fight" a pirate. Another feature – one child gets to go onstage (during the 6:00 and 8:30 show only) and be kissed by Salty the sea lion!
The sea lions are almost always on display outside in their pool on the bypass 17 side of the theater.  Other animals now include goats, a donkey, ducks, doves and sometimes parrots on display in the same area.  Sometimes you can see the beautiful dogs in the show during non-show times in the large fenced grassy area being walked and getting exercise with their trainer.
BONUS ENTRY: T.I.G.E.R.S. Preservation Station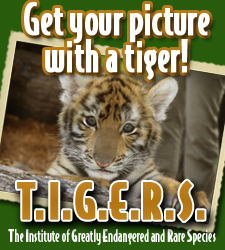 Barefoot Landing, 4898 Hwy 17 South, North Myrtle Beach. 843-361-4552.
Price: Free – $$$. Coupons are available throughout the Grand Strand in the Monster and Sunny Day coupon books.
Time Factor: One to two hours or so, based on if you interact with the animals, get photos taken ($79 (8″ x 10″) for up to 5 in a group), etc, and on size of
crowd.
Very highly rated experience! Good for kids 8 or so and up. Have your picture taken with a tiger club! Newest addition is an ape who loves having her
picture taken! Educational interactive conservation – including holding tiger cubs. Fees for photos and portraits go back to the Preserve to take care of the
animals and save endangered species.
——————
As always, you can check out our main attractions page for other ideas as well.