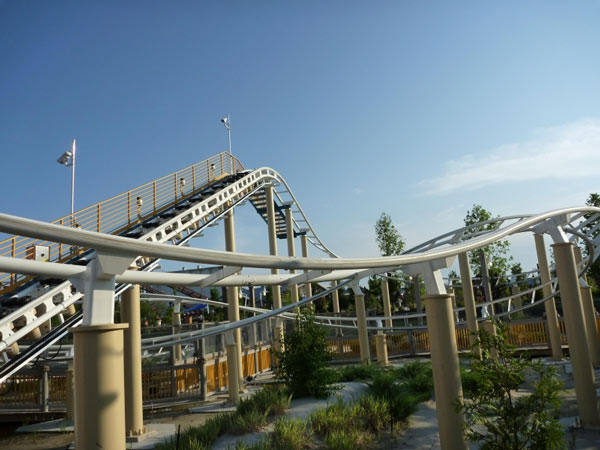 Three times lucky, at least that is what businesses in Myrtle Beach are hoping for the recently purchased Freestyle Music Park. The musically themed amusement park attraction first opened in 2008 under the name Hard Rock Park. The $400 million dollar investment, however, was a bust the first time around and the park subsequently closed at the end of its first summer season.
According to a local newspaper article, a new company saw the potential in the Fantasy Harbor based park, and bought the park from the bankruptcy court for $25 million, a small amount compared to the initial investment. With a little sprucing up , and a change of name to Freestyle Music Park, the park reopened in 2009 with much fanfare.
Perhaps it was the economy, or maybe something more exotic like solar flares, but despite the new owner's best efforts, the park closed by the end of the season and entered into bankruptcy. It is has sat abandoned for the last two years, quietly waiting.
This past week the theme park emerged from the shadows and was purchased during a foreclosure auction for $ 7 million. The company, FPI US LLC previously held the mortgage on the theme park and is now interested in re-opening the park. It is currently looking for a partner to operate the enterprise and hopes to open it for the 2012 season.
Businesses around Myrtle Beach are holding their breath, hoping that the third time is a charm. The vacant amusement park has led to a decline in the appearance of the surrounding businesses. They believe that the park, once re-opened, will bring back vitality to this area.
Many people in the tourism industry believed that the previous failures of this particular park were due to the recession. The park opened during a period when people were forgoing vacations, and if they were taking one, did so with a very tight budget. Other people believe that the theme park may have been charging too much for entry in comparison to other attractions in the area. FPI has stated that it will carefully evaluate all these factors before opening the park again next year.
View other Myrtle Beach area attractions.